ZISIS K. BOUKOUVALAS MD, PHD
PLASTIC SURGEON
Director of the Metropolitan Hospital Plastic, Reconstructive & Cosmetic Surgery Clinic. Lecturer at the Aristotle University of Thessaloniki
Dr Boukouvalas is a graduate of the Medical School of the Aristotle University of Thessaloniki.
Upon completion of his studies, he began his training in the United Kingdom where he worked in several Reconstructive Plastic Surgery and Burn Units such as "Charing Cross", "Saint Thomas" and "Leicester Royal". After that he moved on to the USA, specifically to the US California hospital "Loma Linda", where he completed his doctoral thesis in Microsurgery Reconstructive Surgery. He returned to the UK to work as a Registrar to the famous hospital "Canniesburn" in Glasgow, the "Royal Infirmary" in Aberdeen and the "Royal Devor and Exeter" in Exeter. It was at this point in his career that he achieved the prestigious "fellowship" appointment of the British Association of Aesthetic Plastic Surgeons as a Senior Registrar. Based in "Wellington" Hospital of London he excelled as the key associate of the 15 most eminent plastic surgeons of the time. Returning back to Greece, Dr. Boukouvalas founded the ANAGENESIS Medical Society of Aesthetic Plastic Surgery and Anti-Aging, which currently consists of five major clinics in Athens, Thessaloniki and Mykonos. Dr. Boukouvalas has been -for many years- a member of major Global Organizations and Societies such as "ISAPS", "IPRAS", "ESPRAS" and "EBOPRAS". He also maintains a rich proffesional literary work and has given numerous lectures worldwide.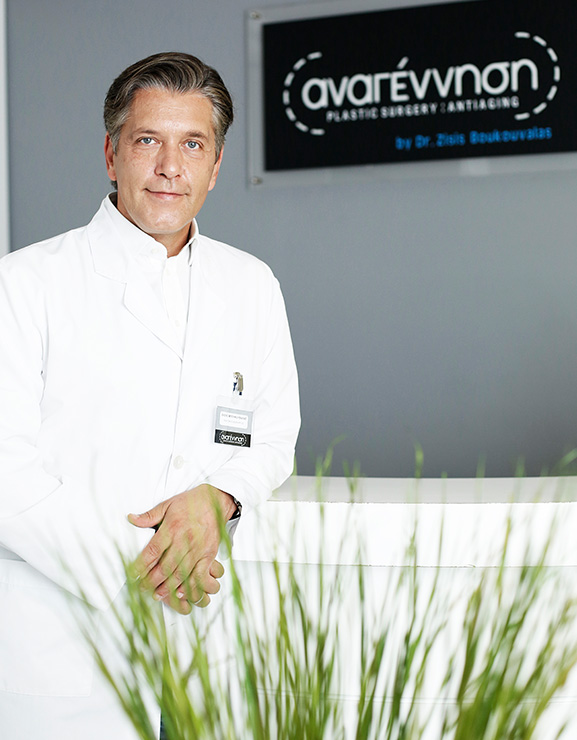 DR BOUKOUVALAS GROUP
Dr. Boukouvalas Medical Group comprises of four medical offices spanned all around Greece and is a certified and multi-awarded Plastic Surgery provider. Its founder Dr Zisis Boukouvalas M.D, Ph.d Plastic Surgeon is an active member of all the major Global Organizations and Societies such as "ISAPS", "IPRAS", "ESPRAS" and "EBOPRAS". Dr Boukouvalas along with his Medical Team, top specialist Plastic surgeons, dermatologists and experienced staff apply the most up-to-date treatments in Aesthetic Plastic Surgery. His Plastic Surgery Clinics provide a wide range of both reconstructive and plastic surgery treatments with special focus in Breast Augmentation, Liposuction, Face LifT, Blepharoplasty and Rhinoplasty operations. Dr. Boukouvalas Medical Group also specializes in all minimally invasive treatments like Cryolipoliysis up to the revolutionary PRP facial treatment, a long list of advanced non-invasive treatments like V-Lift, 3D Bio Lift with fillers which can help achieve remarkable results with minimum recovery time. The surgical operations are performed by a team of medical specialists who operate under the close guidance and supervision of Dr. Boukouvalas within the five operating theatres in Metropolitan Hospital in Athens Greece. Whether you are looking to combine your vacation in Greece with an invasive or non invasive treatment the expert medical team and highly trained nursing personnel will cater to your specific needs and offer high-quality services at market-competitive prices with absolute respect to your need for privacy and unparalleled attention to safe and state of the art treatments and aesthetic results .