ZISIS K. BOUKOUVALAS MD, PHD
PLASTIC SURGEON
Director of the Metropolitan Hospital Plastic, Reconstructive & Cosmetic Surgery Clinic. Lecturer at the Aristotle University of Thessaloniki
Dr Boukouvalas is a graduate of the Medical School of the Aristotle University of Thessaloniki.
Upon completion of his studies, he began his training in the United Kingdom where he worked in several Reconstructive Plastic Surgery and Burn Units such as "Charing Cross", "Saint Thomas" and "Leicester Royal". After that he moved on to the USA, specifically to the US California hospital "Loma Linda", where he completed his doctoral thesis in Microsurgery Reconstructive Surgery. He returned to the UK to work as a Registrar to the famous hospital "Canniesburn" in Glasgow, the "Royal Infirmary" in Aberdeen and the "Royal Devor and Exeter" in Exeter. It was at this point in his career that he achieved the prestigious "fellowship" appointment of the British Association of Aesthetic Plastic Surgeons as a Senior Registrar. Based in "Wellington" Hospital of London he excelled as the key associate of the 15 most eminent plastic surgeons of the time. Returning back to Greece, Dr. Boukouvalas founded the ANAGENESIS Medical Society of Aesthetic Plastic Surgery and Anti-Aging, which currently consists of five major clinics in Athens, Thessaloniki and Mykonos. Dr. Boukouvalas has been -for many years- a member of major Global Organizations and Societies such as "ISAPS", "IPRAS", "ESPRAS" and "EBOPRAS". He also maintains a rich proffesional literary work and has given numerous lectures worldwide.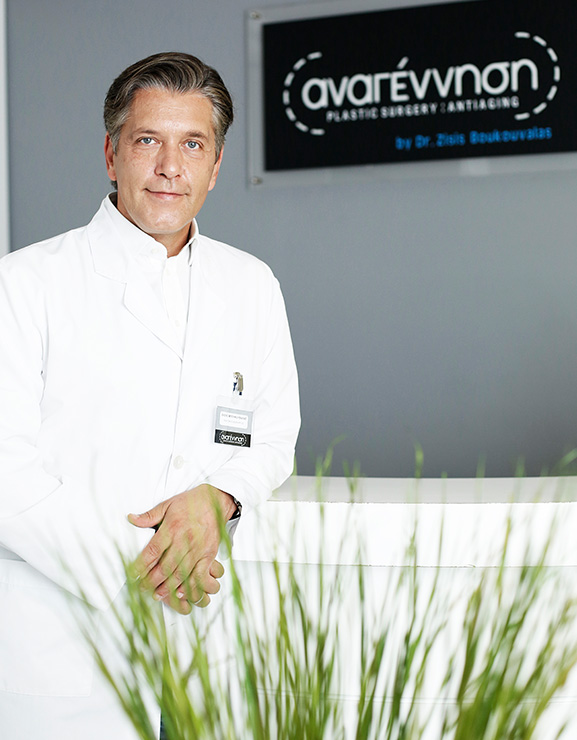 Ο Δρ. Μπουκουβάλας διακεκριμένος πλαστικός χειρουργός & ISAPS Assistant National Secretary of Greece, διατελεί επί σειρά ετών μέλος των κυριοτέρων Παγκόσμιων Οργανισμών όπως το «ISAPS», «ESPRAS», «ICOPLAST» και «EASAPS» επίσης έχει πλουσιότατο συγγραφικό έργο και έχει δώσει πολυάριθμες διαλέξεις στην Ελλάδα και στο εξωτερικό.